EMG2015 // Nicolas Limbach // Fencing Patron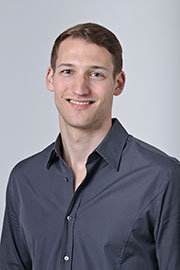 Ladies and gentlemen, dear sportswomen and sportsmen,
It is a great honor for me to be the EMG2015 patron for fencing.
With its 2000 athletes, the European Maccabi Games are like a small version of the Olympic Games. From my personal experience, I know what a unique character of such international tournaments have and how many "cross-border" friendships are formed.
The venue of the EMG2015 has immense symbolic power. 70 years after the end of the Third Reich and 50 years after the re-founding of Makkabi Deutschland e.V., the European Maccabi Games 2015 take place in Germany for the first time. I am sure that the cosmopolitan city of Berlin and the Federal Republic of Germany will be worthy hosts for the competitions.
I wish all participants, spectators, organisers and supporters fair and exciting competitions in a nice atmosphere. Furthermore, I hope that all athletes achieve their desired success in their discipline.

Nicolas Limbach
Nicolas Limbach (*1985) won the German and European championship and the World Cup repeatedly. Furthermore, he won multiple medals in European and world championships.