EMG2015 // Words of welcome Alon Meyer, President Makkabi Germany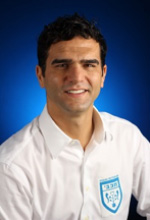 Dear ladies and gentlemen,
Dear friends,
Dear Maccabees,
I feel proud, happy and excited when I think about the European Maccabi Games 2015 in Berlin.
For decades Jewish athletes from all over Germany had the dream to experience the European Maccabi Games here in Germany. The dream of Jewish sportsmen and women getting together in Berlin, in search of sports competition, meeting, getting to know each other and becoming friends.
Now this dream is about to come true, in a year full of historic significance, in a place which couldn´t be more symbolic. The European Maccabi Games will be opened in Berlin on July 27th 2015. The year 2015 marks 70 years after the victory over Nazi-Germany, 50 years of diplomatic relations between Israel and Germany and the 50th anniversary of Maccabi Germany. It is an honor as well as a challenge for me, the president of Maccabi Germany and the Maccabi Germany board to represent Maccabi at this time. We want the EMG2015, which were luckily brought here by our forerunners, to do justice to the historical dimension: be it the variety of competitions the atmosphere and enthusiasm within the athletes' community during the Games as well as the public perception. We want to set a mark internationally and show that Judaism in Germany has found its solid place, that it is vital and diverse, and that it is an accepted part of this country. To sum it up in one word: normal.
Therefore it is no coincidence that most of the competitions will take place in the Olympic Park Berlin. We want to thank the Senate of Berlin for their support and for giving us the opportunity to carry out the European Maccabi Games in that exact location. We are very aware of the great significance.
We also want to thank Federal President Joachim Gauck and Chancellor Dr. Angela Merkel for their support. It really encourages us to have this kind of tailwind.
Furthermore we want to give thanks to the Board of Trustees of the EMG2015: Minister of the Interior, Dr. Thomas de Maizière, President of the Central Committee of Jews in Germany, Dr. Dieter Graumann, President of the German Football Association (DFB), Wolfgang Niersbach, President of the German Olympic Committee (DOSB), Alfons Hörmann and Senior Executive Vice President Sixt International, Regine Sixt.
Lastly we want to thank all the people and institutions who already share our excitement and our anticipation for the Games. Without your support and your passion in every way, idealistically and financially, the organization and realization of such an event with 2,000 expected participants would be impossible.
It is because of Dr. Oren Osterer CEO of our organizing committee and his team that I can quote Theodor Herzl: "If you will it, it is no dream."
We will really achieve this – the EMG2015 in Berlin!
Am Makkabi Chai,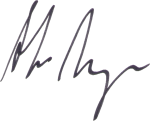 Alon Meyer