EMG2015 // Wolfgang Niersbach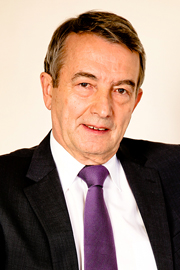 Dear Sirs and Madams, dear Maccabees,
The year 2015 is of symbolic importance for the relations between Israel and Germany, but also for Jewish life in Germany. We celebrate the 50th anniversary of a friendship which was initiated by David Ben Gurion and Konrad Adenauer and which could not be closer in terms of politics, culture, economy, and sport.
Furthermore we celebrate the 50-year existence of Maccabi in Germany. Only 20 years after the Shoa, local associations re-established in Germany in 1965 and with these the umbrella organization Maccabi Germany. Fortunately, over the following years a dynamic, diverse and open Jewish sport-culture developed in Germany, which now will present itself to the world through the European Maccabi Games (EMG) 2015 in Berlin.
The largest European Jewish sport event will take place 70 years after the National Socialist tyranny, 50 years after the commencement of political relations and 50 years after the resuscitation of Jewish sports in Germany. We are extraordinarily fortunate about this and also somewhat proud.
In this spirit, it is a great pleasure for me to support the European Maccabi Games 2015 in Berlin through the board of trustees. I invite the German sport-family to witness this exceptional sport-event.

Wolfgang Niersbach