EMG2015 // Michael Müller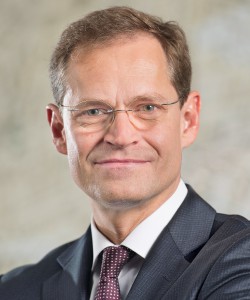 From July 27th to August 5th, 2015, Berlin is under the sign of the European Maccabi Games. I am very happy that Berlin was chosen as the host city and I welcome all athletes and supervisors.
I wish for the 14th European Maccabi Games to become a joyful, light-hearted festival of sports. Furthermore, this major sports event offers many opportunities for Jews and non-Jews to encounter. In this way, the event contributes to mutual respect and tolerance in our diverse society. Berlin today is seen as a cosmopolitan capital of a cosmopolitan country.
The 14th European Maccabi Games, Europe's biggest Jewish sports event takes place in Germany for the first time. It shows that Jewish life is again an important part of our country and city. Even 70 years after the Shoah, we must not forget the crimes against humanity against European Jews. At numerous places in Berlin, we cultivate the memory of the systematic exclusion of Jewish athletes as well as their suspension from the Olympic Games in 1936. We accept our responsibility for such injustice to never happen again. This means vehemently opposing all forms of discrimination and campaigning for a peaceful and respectful cooperation together with many active Berliners.
With this in mind, I want to welcome you again to the European Maccabi Games 2015 in the sports metropolis Berlin! I am happy to support the European Maccabi Games 2015 on the board of trustees. I wish all athletes sporting success in the next days and an eventful stay in Berlin. For the audience, I wish exciting competitions as well as entertaining hours at this special international sports event in Berlin.

Michael Müller
Governing mayor of Berlin