EMG2015 // Dr. Thomas de Maizière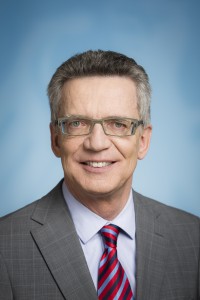 Dear sportswomen, dear sportsmen,
dear members of the delegations and counselors,
70 years after the end of the Shoah and the Second World War, 50 years after the establishment of the German-Israeli relations and 50 years after the re-founding of Makkabi Deutschland e.V., Berlin is the venue of the European Maccabi Games 2015 (EMG2015). I want to share my joy about this with you.
The decision in favor of Berlin shows that free and lighthearted Jewish life in Germany is possible. A new German-Jewish identity has developed which does justice to the memory of the past and is directed towards the future at the same time.
Looking back on the dark period of history of National Socialism in Germany, which lead to the systematic exclusion of Jewish athletes at the Olympic Games in 1936, it is a great pleasure to be able to welcome Jewish sportswomen and sportsmen from all over Europe and from Israel at the Olympic Park Berlin.
European integration is driven forward by active communication and through cooperative and open interaction of its citizens. With its attractiveness and symbolic power, sport is and remains a significant motor for a sustainable Europe. As an outstanding European major sports event, the European Maccabi Games establish a worthy setting to strengthen the European solidarity.
As a member of the board of trustees of the 14th European Maccabi Games, I wish all athletes a successful participation as well as fair and festive Games for us all.

Dr. Thomas de Maizière, MdB
Federal Minister of the Interior