EMG2015 // Regine Sixt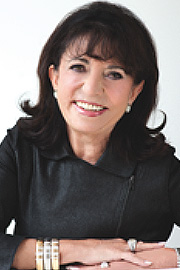 I have always felt a deep connection and responsibility towards the Jewish people. My focus lies not only on the past but also equally on the present and future.
My children's aid foundation "wiping tears" has already implemented a great number of social projects in Israel and we are working on realizing many more. For this I received the Scopus Award from the University of Jerusalem in Febuary 2014 and the Citizen of the World Award a couple of years ago as the first woman and non-Jew, which I am very proud of.
Thus, the appointment to the board of the European Maccabi Games 2015 is especially delightful to me. I have the golden opportunity to actively help shape the biggest Jewish event in Germany after the war, which will take place in Berlin, a city that reflects the eventful German Jewish history like no other.
The fact that young Jewish athletes from 30 countries will compete in sports here next year, makes me happy and humble at the same time. Because who else than the youth embodies the future and what else besides sports builds bridges between nations.
I hope that the European Maccabi Games will be a peaceful event and it is an honor for me to be a part of it.

Regine Sixt